Dazz Story
It all began with a call from a customer. In search of an out of the ordinary gift for her husband she called our hotline and asked for a design so special that his colleagues would turn their heads and say Wow! How did you do that!.
As a Germany based photo gift manufacturer we often get such requests and our designers have fun correcting photo quality issues and optimize formats to fit them onto photogifts.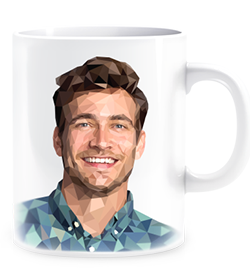 But that day was a turning point. The customer had seen a "vectorized" portrait of a celebrity in a magazine and now asked us to do the same design for her husband's portrait. It took our designers hours of work to "vectorize" her husband but in the end she and everybody else was so enthusiastic about the result that we wanted more.
With so many great ideas around to correct, beautify and artify photos we wanted to offer such services to everybody. We decided to create the Dazz photostyling service with the mission is to make the best out of your photos.
Dazz is not an automated App. Of course we use all sorts of software but each photo is personally being taken care of by a real designer. While some photostyles are created in seconds others may take hours of work.No matter how long it takes, you are guaranteed to always get the best possible result for a perfect photogift.